Here are the pictures and the story behind them from the beginning.


(Click on Thumbnails for Bigger Pictures)
Back in about 1993, I came across this beautiful specimen of a vehicle. I found it in Amarillo, Texas while I was home visiting family. Well, needless to say, I bought it, rented a trailer and towed it behind my Aerostar all the way to Virginia (what a nightmare - wife, 2 kids, cat and Model T!).


This is about a year later, a little progress made but not much. If you look close you can see my foot sticking out of the firewall. The motor is just mocked up. The car had an old Chevy non posi rearend (55-57 or so) in it.
This is in about November 1995, it is now roadworthy and in the process of getting registered. If anyone wants to talk about registering an old car in VA, drop me a line. I started with only a bill of sale and no title, vin or anything. It took about 6 months and about $50.As you can see it has a shortened bed which I really didn't like but a longer one would require lengthening the wheel base and the all kind of other things like that!
I came across this picture of a restored closed cab pickup so you know what they looked like to begin with. The came with either the stake bed or a pickup bed. Retail price was $505 with a pickup bed (called the express body) and $515 for the stake body. It had a 20 horsepower 4 cylinder in it. ( I feel the need for speed!!!)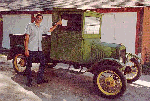 Tom and Debbie Fritz' from Sterling, Colorado have this original bodied Model T. I met them on the internet while looking for Model T's. It is a real hot-rod compared to the original. It has been hopped up with all the right hot rod parts of the time.
Here it is in the summer of 1997! It's not very comfortable, it's really loud, it's grossly overpowered and squirrelly, it get's about 8 mpg, but oh man, does it get the looks!!!
What happened to the little bed? Well, everyone knows that when a good deal comes along, you just have to jump on it. While looking at the classifieds one day there was a complete pro street setup ( tires, wheels, ladder bars, coil overs, driveshaft loop and frame rails) for $500. This was what I was waiting for, all I needed was the rearend. I got the ford 9" from a Lincoln with disc brakes and had it narrowed and then extended the frame. After it was back on the road, I was able to do the bed the way I wanted to. A local sheetmetal company (United Sheetmetal, Portsmouth, VA) bent the two side pieces of the bed to mate up to the original tailgate and frame. Now I have a 4 foot bed with room for the fuel cell, battery and one bag of groceries!
After driving to the car show on Saturday nights, which is about 40 miles away, we got tired of being so cramped. I have now extended the frame 10 inches and I'm working on extending the body by the same amount. Hopefully it will be back on the road soon!

Dec 1997 - The sheet metal is on, next will be the windows and interior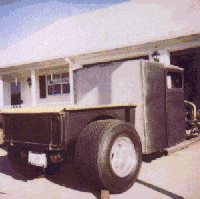 Sept 1997 - The frame has been extended 10" and the old sheet metal has been cut off.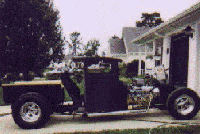 Click on thumbnail
Here is the bed, the inside is done and the color is Ford Chrome Yellow. It tilts back dump truck style. Someday it will be powered by either hydraulics or a screw motor.

Click on thumbnail